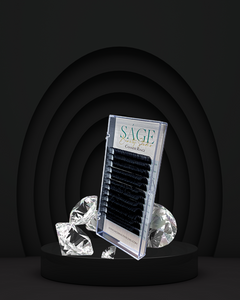 Sage Beauty Studio's Cashmere professional fanning Volume/Mega Volume lash extensions are the lightest weight lashes on the market. 
These light weight lashes give an artist more room for creativity in a lash set. OG fanning lashes that feel silky soft and give the luxurious, matte black look that is most desirable to your clientele. 
*Lashes maintain their original fluffiness and keep the perfect curl. 
Fan like butter
16 lines per tray
Tangle Free
Non sticky backing for easy clean up and storing for future use
No glue adhesive residue at the base
Darkest lash lines approved. 
.